REAL VACCINATION ID WAIVER CARD.
CREATED AROUND YOU.
Without Government. Without Big Data. Without Compromise.
CB Real Vaccination ID Waiver Card provides physical and digital verification of your legally permissible waiver status. —enabling you to gain entry to school, work, events and public places. You control where, when, and how you show proof of waiver status. We make sure you own and control your data and privacy.
Get the Real Vaccination ID for your entire workforce.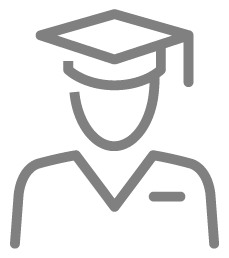 Learn how Real Vaccination ID is helping to protect college campuses.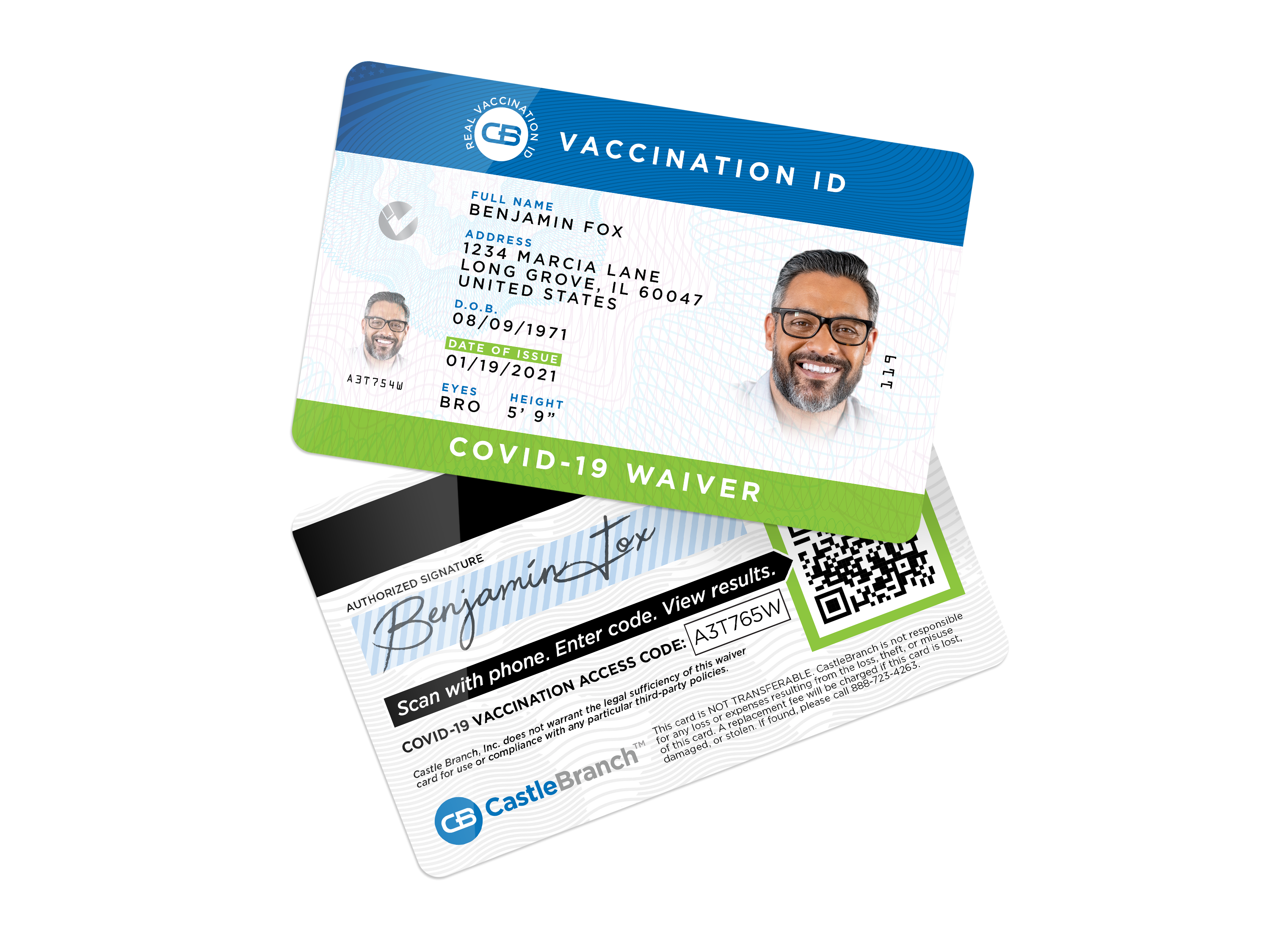 A: The waiver card provides a convenient, secure way for individuals to provide proof that they are unable to receive the COVID-19 vaccination for one of three legally permissible reasons, as previously established by state law: medical, religious or philosophical.
A: Different states have different laws contained within their General Statutes regarding vaccination waivers for medical, religious, and/or philosophical reasons. These state laws determine an individual's eligibility.
A: Documentation requirements vary from state to state depending on state laws. Items like true contraindications forms and physician's request for medical exemption may be required based on your specific exemption request. At a minimum, an individual will need to sign the waiver form and select the appropriate exemption.
A: After order placement, individuals are prompted to upload documentation which is then reviewed and verified by CastleBranch experts. Official, laminated CastleBranch Real Vaccination ID Waiver cards are issued upon successful completion of documentation verification.
A: No. It is up to the individual organization to follow its own policies and decide what precautions must be taken to reduce risk of exposure for both themselves and others. Those with a waiver card are encouraged to visit the CDC for the latest precautions and guidelines.
A: An individual cardholder may present the waiver card at any business or institution that requires COVID-19 vaccination proof. The waiver card is proof of the cardholder's legal declination of the vaccine, and can be used to show primary-source documents (such as a healthcare provider's note, etc.) pertaining to the individual's exemption status.
A: An individual presenting a CastleBranch Real Vaccination ID Waiver card is presenting verified proof that they have submitted legal documentation declining a vaccine. The card is an extension of their verified legal documentation per their individual state's regulations. It is up to the individual organization to follow its own policies and decide what precautions must be taken to reduce risk of exposure for both themselves and others.
A: Each card includes sophisticated anti-counterfeit technology to combat fraud and forgery and a QR code. The organization being presented with the card may scan the QR code, with the cardholder's permission, and enter a unique access code to digitally view verified primary-source documents.
A: CastleBranch works closely with the Infectious Disease Council (IDC), an international coalition of interdisciplinary experts representing the fields of pandemic infectious disease policy, healthcare, education, medical diagnostics and testing, and law to help organizations and individuals strike back against COVID-19. In addition to drawing upon its own expertise and experience, the IDC uses guidance from the CDC to create its guidelines and learnings.
A: CastleBranch is a trusted infectious disease screening, compliance management and consumer reporting agency with over 20 years' experience tracking, reviewing, and/or storing more than 35 million medical documents – including vaccine and immunization waiver documents – for a majority of healthcare education programs in every state across the nation. The company offers a full suite of COVID-19 Compliance Management solutions serving tens of thousands of individuals at schools, businesses and health care organizations.
A: Each waiver card features an individual's photo ID, name, address, date of birth, physical identifiers, and a QR code and description. It also includes a unique QR code that makes signed waivers available to third parties when granted permission by the cardholder. The individual chooses when, where and with whom they share any personal information with.